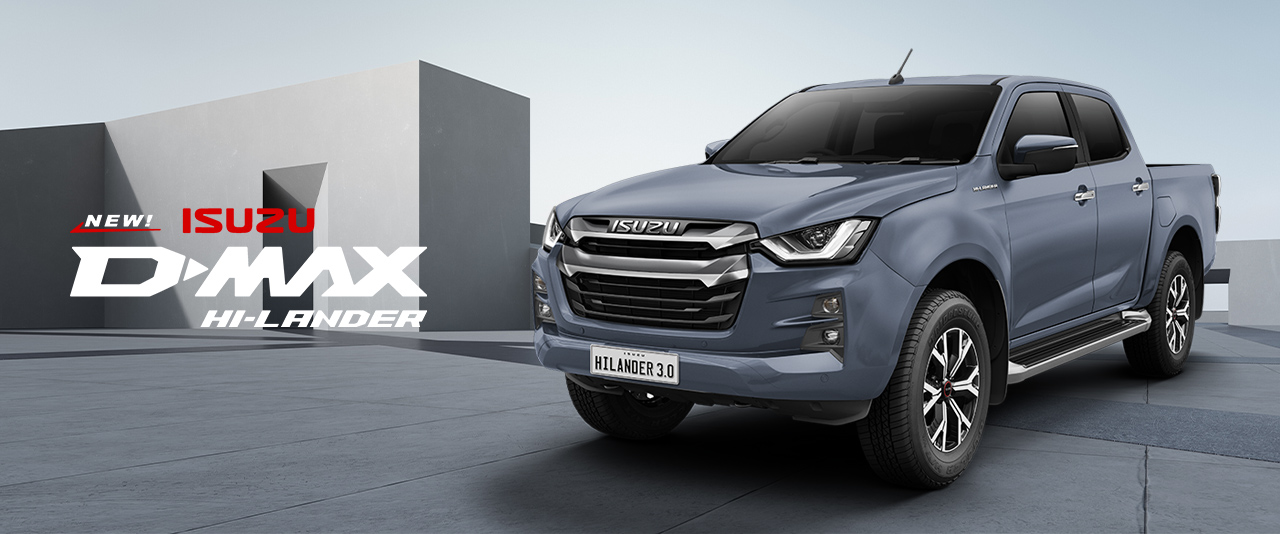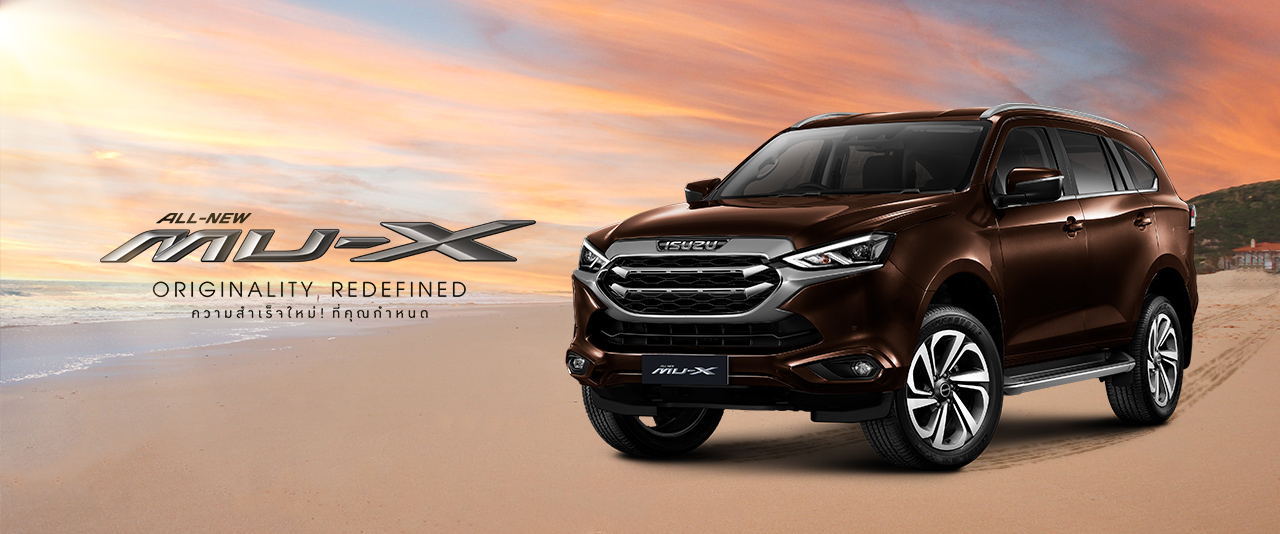 TECHNOLOGY & INNOVATION
Isuzu recognizes the importance of constant advancement in automotive manufacturing. We always aim to develop the best quality of our products to meet international standards and environmentally friendly practices. Most recently, we use the latest technology to design the Isuzu 1.9 Ddi Blue Power engine that can retain the speed, power, fuel-saving, lowest CO2 emissions capability and the guaranteed laboratory CO2 emission level that complies with the international standard. Moreover, we have incorporated other technologies and innovations into our automotive manufacturing process to meet the highest demands of our customers.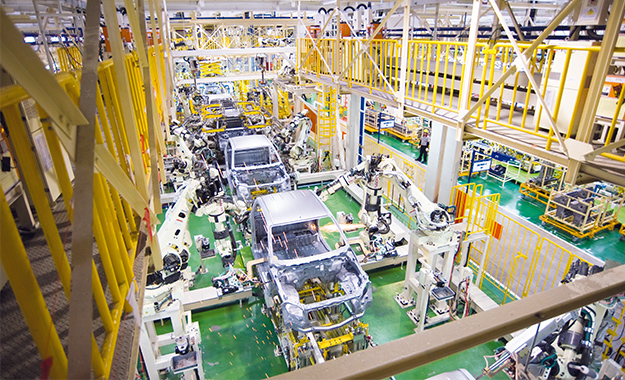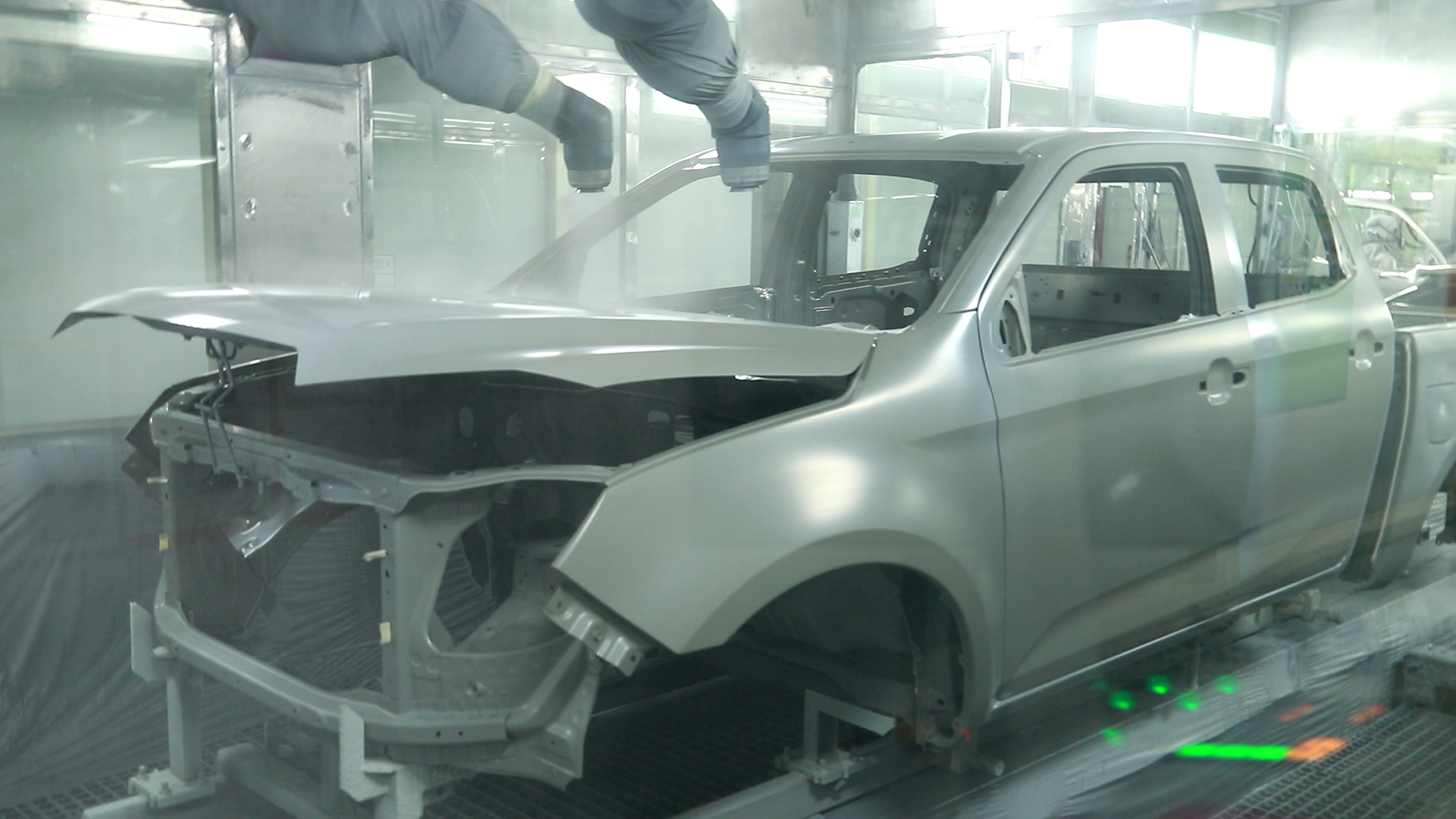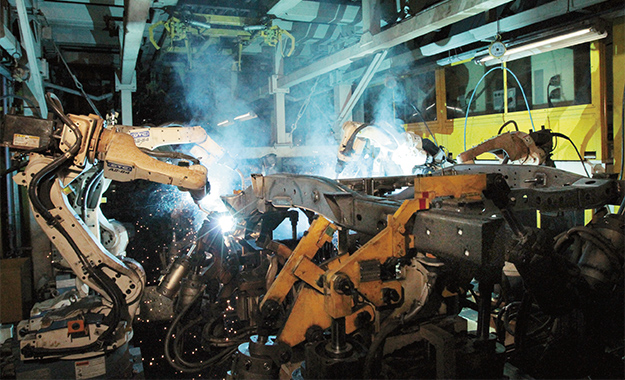 Robots and Isuzu Automotive Assembly
With the highest robot welding ratio in automotive company in Thailand, Isuzu uses high-precision robots as part of our vehicle assembly process such as in the Frame factory, Body factory, and Paint factory. Robots are used to achieve maximum quality and efficiency of body welding and painting. The key factor for using robots is to reduce worker fatigue, to make it more convenient for employees to work in difficult spots or places of extreme heat as well as to allow them to work in a better and safer environment.
Advanced ED Technology
The works at Paint factory begin with the electro deposition coating of vehicle bodies to provide protection against corrosion, followed by the sealing of cabin seams to prevent water leaks and the final paint coating process in the color specified by customers. The unique feature of Paint factory is the use of the Advanced ED technology to make a 360º rotation of vehicle bodies during the electro deposition coating process. This technology enables Isuzu to produce vehicles with maximum paint quality.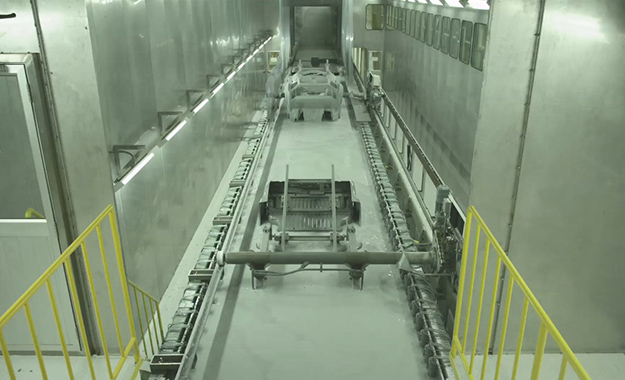 CONCEPT OF ISUZU MANAGEMENT
ISUZU Monozukuri
Kit Supply System
This system was invented by Isuzu employees to improve the delivering of car parts onto the assembly line. Workers will prepare and place all parts for the assembling of individual car on the Automated Guided Vehicle (AGV) for precision delivery of the parts alongside to a specific location on the assembly line. This system reduces the time spent in selecting parts to be assembled for the convenience of workers, and the problem of omission to install certain parts on the body as workers are required to assemble all parts that are placed on AGV for quality in production. Kit Supply System enhances the assembly efficiency for Isuzu vehicles.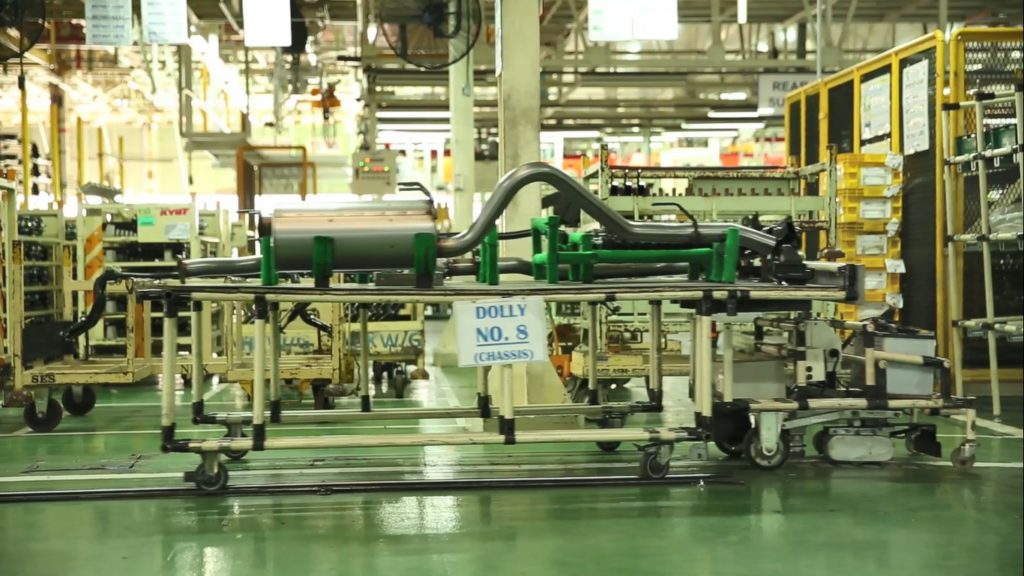 Dojoo
Isuzu's employee training areas were designed to instill within our employees the basic understanding and awareness of work safety with the goal of reducing work accidents (Safety Dojoo). Employees are trained and educated in automotive assembly quality and standards under the concept of "Accept no waste, produce no waste, and release no waste" (Quality Dojoo) in manufacturing products of the highest Isuzu quality standard.
Isuzu Manufacturing Management (IMM)
อีซูซุมีระบบการควบคุมคุณภาพที่เป็นมาตรฐานเดียวกันในโรงงานอีซูซุทั่วโลก โดยแนวคิดหลักของระบบการบริหารการผลิตแบบอีซูซุ คือ ทำตามมาตรฐาน ไม่รับของเสีย ไม่ผลิตของเสีย และไม่ส่งของเสีย เพื่อให้การผลิตรถยนต์มีคุณภาพ สามารถสร้างความพึงพอใจสูงสุดให้กับลูกค้าและรับประกันการผลิตรถยนต์ให้เป็นไปตามมาตรฐานสากล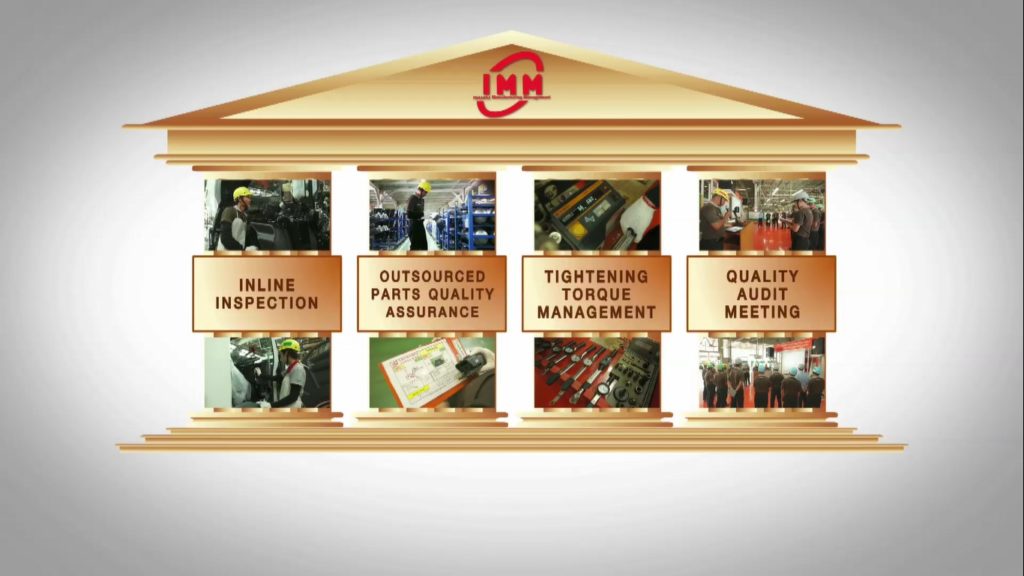 Isuzu Logistics Management System (ILMS)
The system was developed as a tool to facilitate data sharing on parts purchases between IMCT, its affiliated companies and parts manufacturers in Thailand. We are the first automotive company in Thailand to apply information technology into the parts order system, parts transport system and tax invoice management system.
This system can help reduce production costs, create a universal standard of work, and is environmentally friendly especially in reducing the amount of paper used and the length of sorting process. Moreover, we are developing a system in which GPS trackers are installed on our fleet of parts delivery trucks and linked them to the procurement system to improve efficiency and accuracy of the delivery status of our goods.
*This system was granted a copyright by the Department of Intellectual Property in 2017.*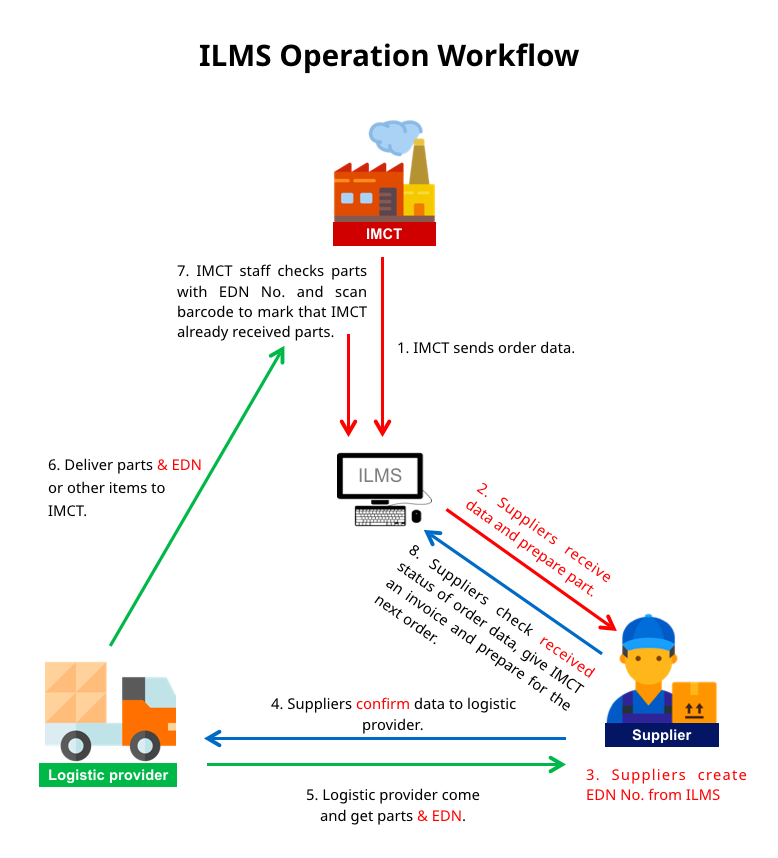 Isuzu Manufacturing Training Center Thailand (IMTCT)
IMTCT was established in 2013 for the purposes of training, developing, and enhancing work efficiency among the production line employees in the Isuzu Group companies. We focus on three main aspects of training: mental, knowledge and skill training. Training contents cover a variety of topics such as leadership skills building, production management and labor management to create
"the best people" for "the best products".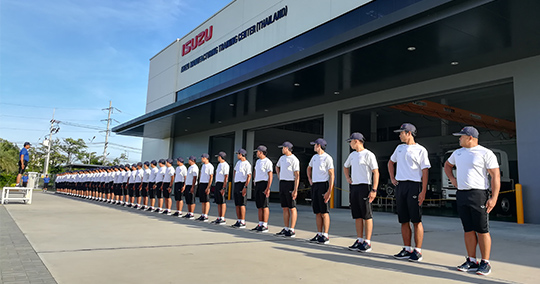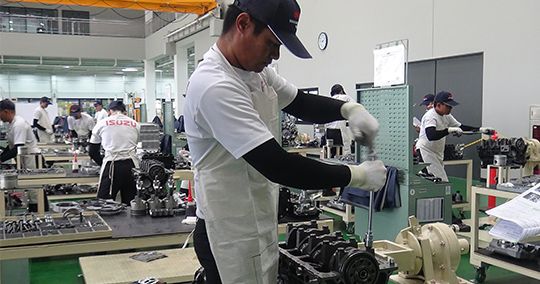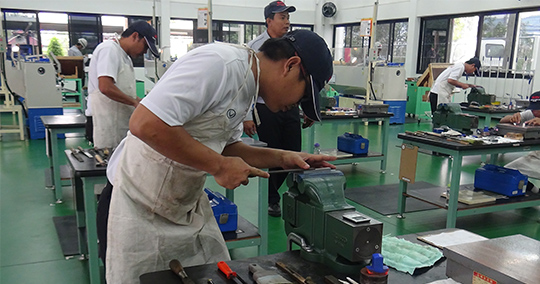 Safety Dojoo
A training area is designed to instill within our employees the basic understanding and awareness of safety. Simulation of various tasks in the production steps of each factory is provided in this space to show both risky and safe work practices. Employees are trained to apply the knowledge acquired at the Dojoo to their work to create a safe and zero-accident workplace.

KY (Kiken Yochi)
These are the activities designed to raise safety awareness among Isuzu employees and to provide them with hazard prediction training. The key concept of KY activities is to train all employees to develop constant safety awareness, disciplined adherence to and habitual observation of work procedures to assure work safety and reduction of work-related accidents. Having recognized the importance of KY activities, the Company's executives, led by the president of the company, conduct personal inspection of KY activities on a monthly basis to ensure that all work processes are regularly operated under a safe work environment.
Safety Talk
An activity is organized to foster safety awareness among production line employees and is held on the first day of each month. 15 minutes before working, supervisors will talk about different case studies of work accident to discuss and exchange safety knowledge and understanding with employees to prevent possible accidents in their line of work.